Solar Power Without the Panels
What if you could save money on your electric bill with solar energy – and contribute to a greener environment - all without having to install ANY solar panels on your roof?
In certain states, solar power is now an option to anyone who pays an electric bill – with Resconn Solar.
A community solar project is a group of solar panels installed in a sunny location. Homeowners, small business owners and even renters can subscribe to access the clean energy produced by the panels and get credits on their electric bill.
Here's how it works:
1
STEP 1
Choose how much solar energy you want. You can offset a part of your electric bill or all of it.
2
STEP 2
Each month, the amount of solar energy you have subscribed to will be credited to your electric bill and you will pay your discounted community solar rate. This rate applies to only you and your fellow community solar participants and guarantees savings.
3
STEP 3
Energy will still be delivered like it always has, by your local utility company. But you will be credited on your electric bill for your portion of the energy produced by the solar panels.
Community solar makes it easier than ever for more people to go solar! It's perfect for utility customers who are unable to support a solar installation due to being a renter, having a bad location, aesthetic concerns, or those living in a condo or apartment building.
How much might I save?
Your savings will vary from state to state, from utility to utility and program to program. Below are just some examples of what you might expect:
Orange & Rockland, NY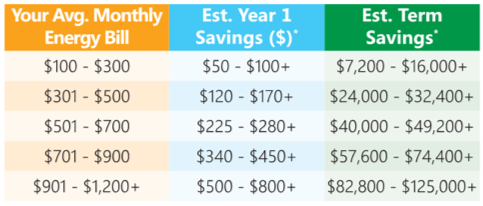 Central Hudson Utilities, NY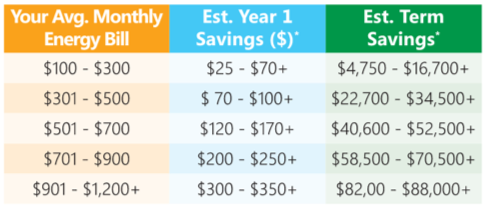 *Savings are not guaranteed. Year 1 and Term (20-year) savings estimates assume an average monthly utility bill in the stated range, and a community solar allocation that offsets 100% of annual electricity usage for a customer in the stated utility territory. Figures are estimates, your usage and allocation may vary, community solar farm production could be more or less than estimated, and utility prices are subject to change and could go up or down. Savings estimates based on (1) published average utility pricing for a residential customer in the stated utility territory over the three most recent calendar years, assuming a 3% annual utility price increase; versus (2) Community Solar payments at estimated production levels, assuming a community solar allocation that offsets 100% of annual electricity usage. Subject to credit approval.
Who is Eligible?
Homeowners
Renters
Condo Dwellers
Small/Large Businesses
Institutions
Municipalities
Community Solar Benefits:
No solar panels on your roof
No special equipment required
No customer maintenance
Save money on the electric bill
No upfront payments or long-term leases
You choose LOCAL power
Clean, renewable energy for your area
Guaranteed discount to the solar Energy Credit Rate